B"H
12 Av 5774
8th of Augustus 2014
My succesful Giyur at the European Beth Din in Basle, Switserland
My name is Mattityahu Akiva and I was born in 1982 in the East of the Netherlands, in the vicinity of Arnhem. This is where I grew up and went to school.
I come from an ordinary, observant Christian Dutch Protestant family. As far as I know I have no Jewish 'roots' or family members. I grew up in an area where hardly any Jews remain, except for a very small community in Arnhem.
When I was 13 years old I became interested in Judaism. In 5770/2010 I visited Israel for the first time and went to see Jerusalem. I also spent some time studying with Aryel Tsion from Susya in Israel. About half a year after my visit to Israel I decided I wanted to become a Jew. Aryel Tsion introduced me to Rabbi Ahron Daum, Shlita, who acts as a focal point for those wishing to become Jewish according to the criteria of Halachah in Europe and especially in the Benelux.
Rabbi Ahron Daum lives in Antwerpen, a major centre for religious Jewish life in Europe. Antwerp is an ideal city to prepare oneself for Giyur, because it has a complete Jewish infrastructure. I introduced myself to Rabbi Ahron Daum and decided to take 2 hours of Jewish lessons via Skype a week. One hour was dedicated to reading proficiency in the Siddur and the other hour was reserved for Halachah (Jewish Law).
In 2012 I decided to move to Antwerpen to be able to continue my Giyur in Jewish surroundings, as there was no possibility to succesfully finish my Giyur where I was living at the time. In Antwerp I was able to rent a room for a reasonable price and so was able to have my Jewish lessons (Shiurim) with Rabbi Ahron Daum in his Rabbinic library. As Rabbi Ahron Daum is partly handicapped because of difficulties in walking, he asked me to assist him. So for a time I became the assistent of Rabbi Daum and more or less a part of the household of Rabbi Daum and the Daum family. I celebrated Shabbat and Yamim Tovim at the Daum family and accompanied Rabbi Ahron Daum to synagogue every Shabbat and for Festivals.
During the past two years I had the privilege to cooperate closely with Rabbi Ahron Daum and work on the creation of many essays in Dutch and English. These essays can be read on Rabbi Daum's website www.bestjewishstudies.com, see the link 'Essays and Articles'.
Rabbi Ahron Daum suggested that I contact the European Beth Din, and especially the Rosh Beth Din, HaRav HaGaon Chanoch Ehrentreu, Shlita, former Rosh Beth Din of London, Great Britain.
According to Rabbi Ahron Daum a Giyur at the European Beth Din (see http://europeanbethdin.com) has the following advantages:
1. Unanimous recognition among all Orthodox and ultra-Orthodox circles.
2. Recognition by the Chief Rabbinate of Israel and by the Israeli Ministry of the Interior, which means one has a right to Israeli citizenship and Aliyah rights (for an unlimited stay in Israel).
3. Good chances in 'Sjidduchim'.
I applied for Giyur at the European Beth Din and cited love of Torah as my motivation, as it is my hearts's desire to learn at a Yesjivah.
I was immediately accepted as a candidate and a few weeks later I was invited to present myself at the Beth Din in Basle.
My first impression was very positive. The Dayanim were most friendly. They asked me to read from the Siddur and posed me some questions on Shabbat, Kashrut, etc. I found some of the questions quite difficult. The Dayanim agreed that I was to appear before the Beth Din for a second time after another period of learning.
In the meantime I had my Brith Milah (religious circimcision) performed. On the advise of Dayan Chanoch Ehrentreu I chose for Mohel Mordechai Tzvi Solomon, Shlita, from Basle, to perform the circimcision. He has a good reputation and much experience in performing religious circumcisions of grown-up men.
Rav Ahron Daum and I sent a message to the Mohel. Dayan Chanoch Ehrentreu wished the circumcision to take place under supervision of an improvised Beth Din. As Rabbi Ahron Daum is the former Chief Rabbi of Frankfurt, Germany, he has good connections with the local Lubavitcher Sjaliach, Rav Zalman Gurevitch, Shlita. He called together an improvised Beth Din in Offenbach, not far from Frankfurt.
Having the circimcision performed in the presence of an improvised Beth Din meant that later I would not be required to have a 'Hatafat Dam' (punctuation) performed.
Another advantage of a religious Jewish circumcision is, that the complete foreskin is removed. This is mostly not done at non-Jewish clinics or by non-Jewish doctors and this causes much distress and discomfort for the man during the preparations for Giyur.
No complications occured during the circumcision and when it was done I recieved my Jewish name. The healing process took about two weeks. Only during the first few days I experienced some discomfort.
At the request of Rabbi Ahron Daum, Shlita, Dayan Chanoch Ehrentreu, Shlita, gave us a list of eight subjects that I was to prepare together with Rabbi Ahron Daum. We wrote some essays on some of these subjects, like Shabbat, Tefillin/Tzitzit and Maimonides' 13 Principles of Faith.
After the circimcision I went to the Beth Din for the second time. This time Rabbi Shlomo Hofmeister, Shlita from Vienna was present and he was satisfied with my ability to read from the Siddur and knowledge of Halachah.
After Pesach 5774/2014 Rav Ahron Daum urged the European Beth Din to complete the Giyur procedure during the summer of 5774/2014 at the latest, so that I would be able to begin the new semester during Ellul in a Yesjivah as a Jewish man.
At the begining of Siwan 5774/June 2014 I was invited to go to Vienna for my final appearance before the Beth Din to enable them to take a definite decision on my Giyur. For about an hour I was questioned by Dayan Chanoch Ehrentreu and Rabbi Shlomo Hofmeister and after answering the questions to their satisfaction I was accepted for Giyur.
A week later I was invited to go to London to immerse myself in the Mikvah. The immersion took place in the presence of Dayan Chanoch Ehrentreu and two other Dayanim. I was greeted warmly en afterwards Dayan Chanoch Ehrenteu gave me some food and brought me to the station.
Three weeks after the immersion in the Mikvah I received my Giyur certificate, both in English and in Ivrit, signed by Dayan Chanoch Ehrentreu and the two other Dayanim.
Since that time my daily routine has changed. I now davven with my Tefillin in the synagogue. Sometimes I am called to the Torah and now also make 'Kiddush' for myself at the Shabbat table of Rabbi Daum. Sometimes I am also given the privilege of 'Zimun' (leading the Birkat HaMazon, prayer after a bread meal).
I am much occupied with finding a suitable Yesjivah for Geriem/Baalei Tesjuva in Israel or the United States.
My two years spent with Rav Ahron Daum were not easy. Rav Ahron Daum is a perfectionalist/maximalist, who is much concerned with details and demands accuracy. He asks much of his students. I was able to profit to the full of his broad knowledge on all subjects of Judaism and had the rare chance to experience 'Shimush' (the Jewish way of life) with a well known Rabbi.
I would like to use this opportunity to thank Rabbi Ahron Daum for the effort he made and all the trouble he took on my behalf and for his help in succesfully completing my Giyur. I wish him good health and many years of physical good fortune and spiritual resilience.
With heartfelt Shana Tova greetings for the People of Israel ('Klal Israel') and for the land of Israel.
Mattityahu Akiva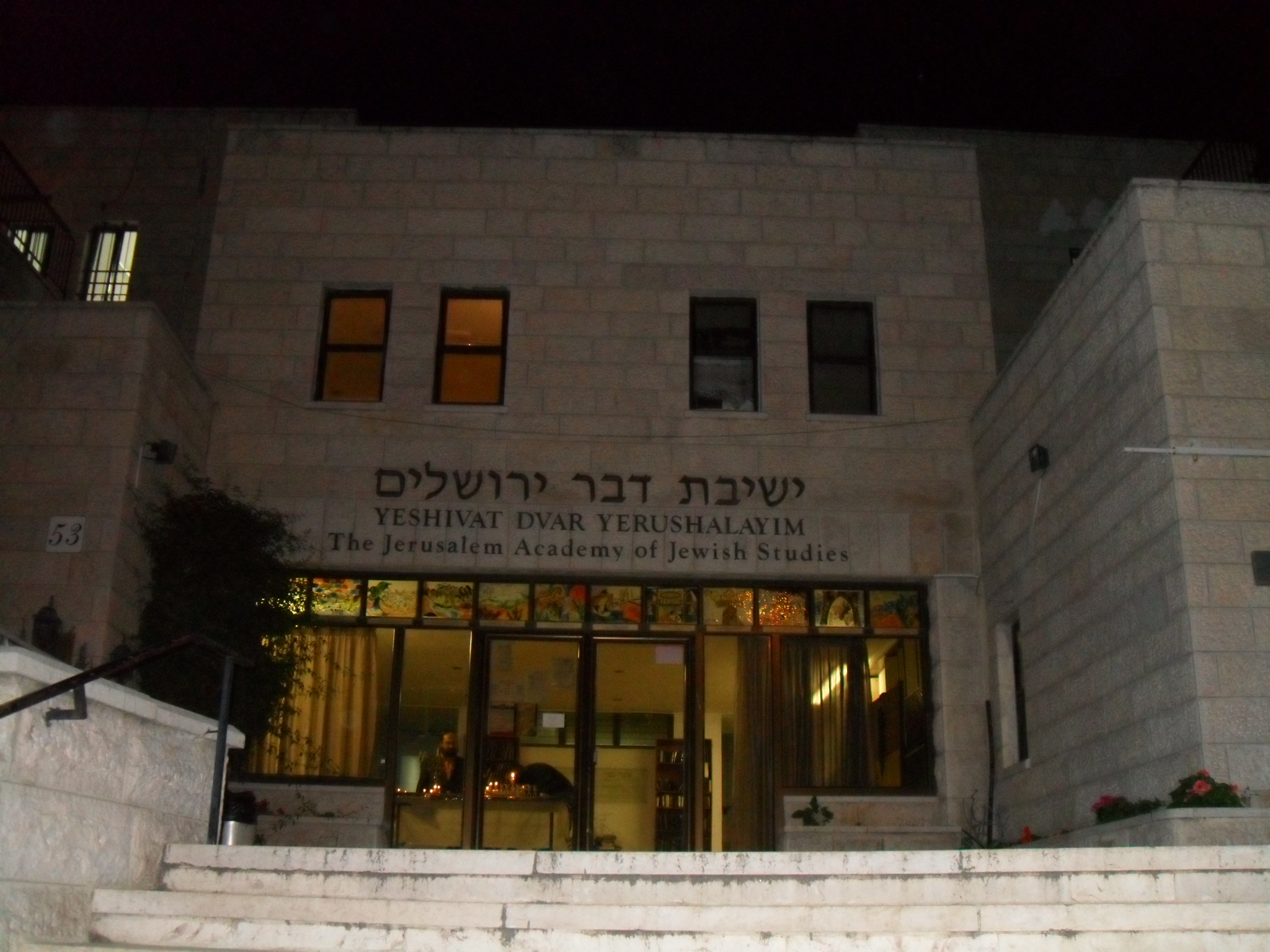 Yeshiva Dvar Yerushalaim where I study specialised for "Baaleh Teshuvah" and "Gerim" (proselites)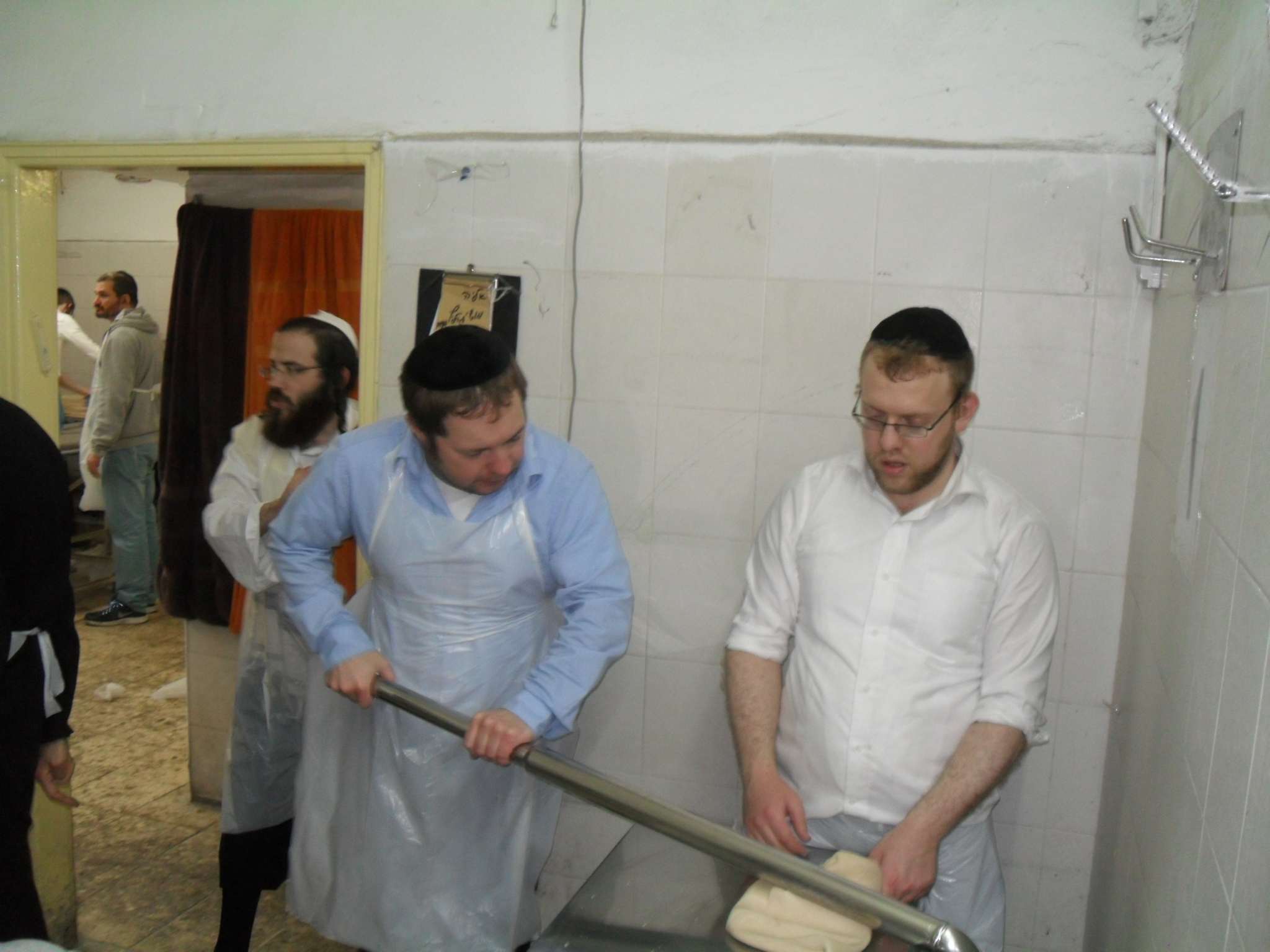 Helping baking matzot for Pessach. I am dressed in blue